Latest Images
Who Is Miley?
Miley Ray Cyrus
is a 21 year old actress and singer-songwriter, who was born on the 23rd November, 1992 in Nashville, Tennessee. Her birth name was Destiny Hope, but in 2008 she legally changed her name to Miley after her dad had given her the nickname "Smiley." Miley rose to fame for her role as
Miley Stewart/Hannah Montana
in the hit Disney Channel show
"Hannah Montana,"
and has also starred in several movies such as
"The Last Song
,"
"LOL"
and
"So Undercover." She is recognized as one of the most successful artists to originate from Disney and at 18 was named as one of the richest teens in Hollywood with earnings of over $120 million. Miley has released several successful albums from "Meet Miley Cyrus" in her earlier days to her most recent album "Bangerz" which contains her first US #1 single "Wrecking Ball." She has also taken part in three tours worldwide and has recieved several awards and nominations.

Current Projects
• "Bangerz" Tour

Type: World Tour
Began: February 14th, 2014
Tickets | Photos




• "Bangerz"

Type: Fourth Studio Album
Label: RCA Records
Status: Completed
Release: October 8th, 2013
Buy on iTunes


• "Adore You"

Type: Single
Album: Bangerz
Release: December 17th, 2013
Buy on iTunes



• "Wrecking Ball"

Type: Single
Album: Bangerz
Release: August 25th, 2013
Buy on iTunes



• "We Can't Stop"

Type: Single
Album: Bangerz
Release: June 3rd, 2013
Buy on iTunes



Official Links
Important Dates
November 23rd - Miley's Birthday
Miley's Tweets
Tweets by @MileyCyrus
Follow Miley on Twitter!
Miley's Instagram
Follow Miley on Instagram!
Current Single


"Adore You"
From "Bangerz"

Buy on iTunes / Photos / Lyrics
Tour Dates
"Bangerz" Tour 2014


North America – August 1st, 2014 – August 14th, 2014



South America – September 24th, 2014 – October 3rd, 2014



Oceania – October 8th, 2014 – October 23rd, 2014



Search for Miley tickets at ConcertTour.org
Buy Concert Tickets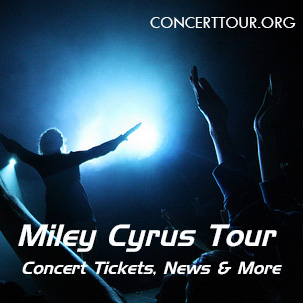 Shop Miley

More Miley merchandise available from: Amazon.com
Site Networks
• MileyImages.org
Over 160,000 images of Miley from movies, appearances, photoshoots and more.

• Icon Archive
Visit for tons of 100x100 icons for your own personal use.

• Twitter
Follow us for all the latest Miley and site news.
Family Sites
Elite & Top Affiliates



**Currently accepting HQ fansites - click here to apply**





We have removed our previous top affiliates. If you were here before and still wish to be, please email us and we will re-add you.
Search the Site
Spotlight Photo
View more images from this album
Featured Video
Site Statistics
Domains: MileyRCyrus.com, MileyImages.org
Online Since: 01/01/09
Hosted by: StarsZZ & Hollywood
Contact: Email
Version: #15
Best Viewed: Firefox
Currently Online: 31 Fans
Total Hits: + 218021

Disclaimer
MileyRCyrus.com is 100% unofficial and is maintained by fans for fans. We are in no way affiliated with Miley, RCA Records or anyone related to her management, and we don't know anyone who is. We are not responsible for any false information. The content on this site is used under the Fair Use Copyright Law 107. All original text and graphics belong to MileyRCyrus.com unless otherwise stated. All scans, screencaps and other photos are copyright to their respective owners, and all articles copyright to their respective publishers. No infringement is ever intended. Any tags on our photos are for promotional purposes only and not meant as a sign of ownership. If you have a problem with anything on this site or would like something removed, please email us before taking any legal action

Our full photo disclaimer can be found at MileyImages.org

We are NOT Miley Cyrus, and we are not in contact with her. Any emails/fan mail sent to us intended for her will be deleted.



2009-2014 MileyRCyrus.com / MileyImages.org